Service
Toyota Service Centres meet all vehicle care requirements including comprehensive maintenance, spare parts, accessories and body & paint services. Whether you vehicle needs a simple engine oil change or tyres rotated our Service Centres are the quick and easiest way to go. The modern and fully equipped centres ensure a high quality and rapid service provided by Toyota certified technicians. With 4 locations throughout Bahrain in Tubli, Arad, Manama and Riffa, you are never far away from us.
Toyota Service options
Quick Service
A dedicated Quick Service lane at the Toyota Plaza offers standard servicing for Toyota owners, including an oil change and filter replacement, a full car wash, and also a Free Electronic Vehicle Health Check. Take advantage of quick service available at Toyota Plaza, and soon at our Service Centre in Manama.
Periodic Maintenance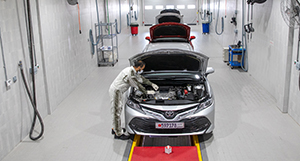 Prevention is better than cure. For hassle-free driving, always follow the recommended periodic maintenance intervals (every 5,000 km and 10,000 km) for your vehicle.
During periodic maintenance service, vital parts are inspected and if necessary, replaced, to prevent unforeseen vehicle breakdown.
20% Lifetime Service Discount
If you own a Toyota vehicle that is four years or older from the date of purchase, then you are eligible to receive a 20% discount on service, which includes spare parts and labour charges.
This lifetime discount on service is extended by Ebrahim K. Kanoo to reward your loyalty and to ensure your vehicle's safety and performance through certified professionals and genuine spare parts.
Traffic Inspection Centre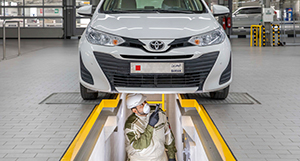 You can now inspect, register and insure your vehicle - all in one place. Ebrahim K. Kanoo, in partnership with The General Directorate of Traffic (GDT), provides technical examination centres for your Toyota vehicle at Toyota Plaza in Tubli, and Toyota Service Centre in Arad.
GDT trained technicians are available at both locations, in addition to a Traffic Self-Service Stand and Sadad machine for payment of contraventions. Vehicle insurance can also be purchased with insurance representatives on site. 
Convenient Commercial Vehicles & Forklifts Service
Toyota's commercial and business vehicle heritage is reflected in the care, efficiency and expertise of the Toyota Plaza's Commercial Vehicles & Forklifts Service Centre. The separate facility which has a designated entrance and reception is tailored specifically to the dimensions and needs of commercial vehicles from buses, vans and trucks to pickups and forklifts, with service technicians specifically trained to repair them efficiently.
The Service Centre operates business-friendly policies, with flexible long service times to accommodate fleet owners' business needs. Businesses with fleets can schedule services after hours to minimise business disruption. The Plaza also schedules services on weekends to ensure commercial vehicles are ready for the week ahead.